Omni-Rise Continuous Cord Loop System
Designed especially for large shades and long shades, our smooth operating Omni-Rise Continuous Cord Loop System is the most popular lift system for cellular and pleated shades. The cord loop replaces standard pull cords and keeps dangling cords to a minimum. The Omni-Rise clutch system helps raise shades evenly and easily and keeps your shade at precisely the height you want without having to lock or unlock the pull cord. Wherever you stop, the shade stays put! Even the largest of shades are simple to lift with the Omni-Rise Continuous Cord Loop. The white aluminum head rail comes with a coordinating strip to match most fabric colors.
Chordless Ultra Cordless Hardware System
The Chordless Ultra Cordless Hardware System allows you to raise and lower the shades with the touch of a finger. Up or down, the shades remain level and equalized while your window remains free of dangling cords. A great safety feature for the household with small children and pets.
Energy Saving Side Track System
The ComforTrack Side Track System seals the leaks between the window and the frame, minimizing energy loss and saving energy dollars. They're certified for federal energy efficiency tax credits. Fight the rising cost of energy and stop throwing money out the window!
Chordless Duofold
A combination of the Top-Down, Bottom-Up shade and the Chordless shade. Raised and lowered with the touch of a finger, Chordless Duofold Cellular shades allow you to enjoy your windows with minimal cord distraction, for a beautiful view.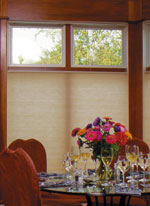 Duofold Top Down Or Bottom Up Shades
Duofold Shades for top down or bottom up convenience. Two cord locks on either side of the shade allow for operation in either direction. Duofold is perfect for those looking to have a view at the top of the window while maintaining privacy below.
Two-on-One Head Rail
Multiple cellular shades can be mounted on the same head rail if the window application requires a split or the window is too large for one shade. The Two-on-One Head Rail allows each shade to operate independently while giving the impression of a single shade.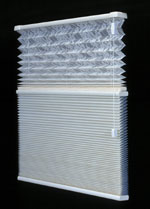 Day-Night Shades
Enjoy a combination of fabrics for customized light and privacy control. Day-Night Shades combine two fabrics into a single shade. One fabric is placed between the top rail and center rail while another is placed between the center and bottom rails.